Introducing the EM MII Series!
The EM MII Series is of a higher speed and calibre than our previous model, the Amada EM3510NT. The EM MII Series is the next generation of electric punch machine, and we have it. With the Z turret using upper and lower discs of varying diameters, we can reduce setup time and get to production sooner. Tool and part quality are assured for longer with the latest high-tech barcode systems. Moreover, with an X-axis travel distance of 3050 mmi it allows 5′ by 10′ sheets to be punched without repositioning. At DB Sheetmetals we can get more done, at the same great standard, and at a faster pace.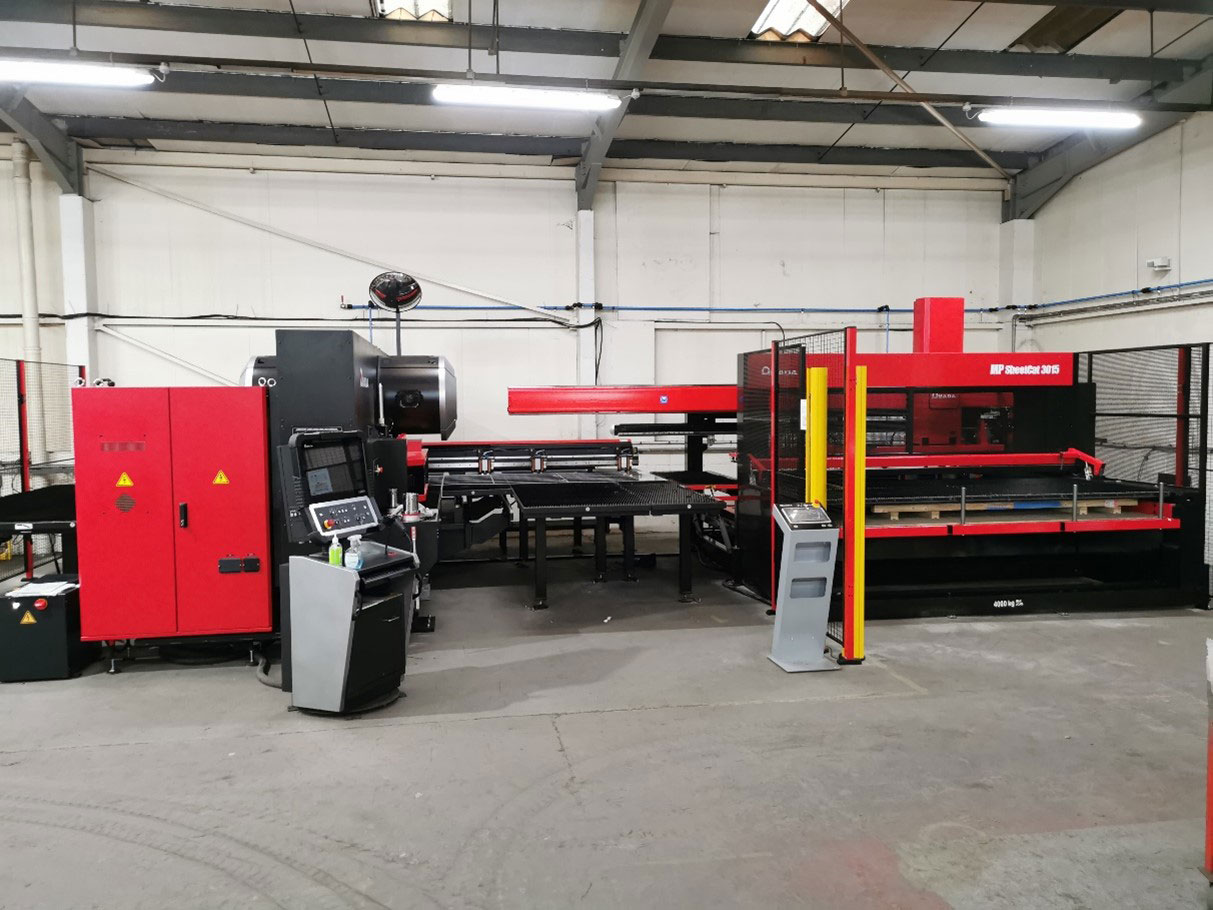 Features of our new EM MII series include:
• Reduction of tool setup time
• Prevention of tool installation mistakes
• High speed
• High productivity
• Range expansion
CNC Punching Explained
CNC punching stands for computer numerically controlled punching. This is a standard part of the sheet metal manufacturing process. A CNC machine is a system that utilizes multiple tools, built into cells from which the machine can select from, and use them when necessary. Here at DB Sheetmetals in Suffolk, we have a long history (and with it a wealth of experience) with CNC punching.
History
Before CNC punching was developed, the industry standard was to use NC punching. NC punching was developed in the 1940s by John Parsons, for the purpose of producing hardened aircraft coatings. NC machines were controlled by punch cards which had a set of codes on. These codes were referred to as 'G-codes'. It was in the 60s and 70s that digital technology emerged, making the production process automated and more efficient.
The Advantages of CNC Punching
Cost-effective
Saving on time and waste, CNC punching is a cost-effective solution in sheet metal manufacturing.
Safe
A hazardous-free environment means the operator can be kept a distance from anything potentially dangerous.
Increased productivity
Once a design has been developed once, it can be stored and replicated over and over.
​Increased speed and accuracy
The automation ensures this process is fact, and accurate.
You can find out more about our other available services from DB Sheetmetals here.
The image below was punched on one of our machines, the image is created with just different size holes only!
30,000+ holes varying in size and the panel took about 30mins to punch. The panel size is approx. 2500x1200mm
Hover over the image to get a better look!